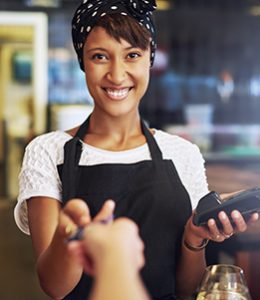 Please call 800-383-8000 to report a lost/stolen card 24 hours a day/7 days a week. During regular business hours call 815-857-3625 ext. 5301.
Whether you're shopping around the corner or around the world, The First National Bank in Amboy debit card is an easy, hassle-free way to pay. You no longer have to carry a checkbook, write checks or wait for check approvals. Also, since the debit card carries the Mastercard symbol, nearly every merchant that accepts credit cards, takes Mastercard. That's true not only in the United States, but also internationally.
With The First National Bank in Amboy debit card:
Funds are automatically deducted from your checking account with each purchase
A record appears on your monthly checking statement
Newly issued The First National Bank in Amboy debit cards have the security of chip technology. This technology provides greater security when making purchases. Learn more about chip card technology
Debit cards are issued with a monthly $1.00 service fee
No charge will be assessed when you use one of our convenient ATM locations
No charge will be assessed from The First National Bank in Amboy for using another ATM
Card Fraud Protection
The First National Bank in Amboy partners with Falcon Fraud to keep you safe! When suspected fraud occurs on your debit card, Falcon Fraud will contact you by phone or text to determine if the charges are truly fraudulent. They will never ask you for full account information or detailed personal information when contacting you, a Falcon Fraud representative will identify themselves. They will only ask you for partial information which may be used to verify your identity.