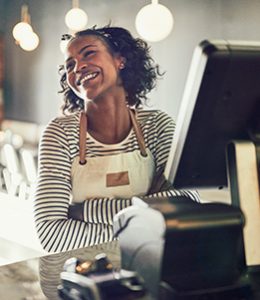 Our local merchant program does more than process your credit card transactions, by establishing your program through us your business gets services and options that really matter.
As a merchant you have the opportunity to better serve your customers by accepting credit cards as payments for goods and services. Studies show that cardholders will patronize merchant locations accepting credit and debit cards more readily than merchant locations that do not.
Our merchants are set up with electronic equipment, which allows you to obtain authorizations on credit cards. The funds are electronically deposited right into your account.
We work with each merchant individually to develop a program that works well for you. We provide on-site set up and programming, and we're here to answer questions and provide training to your employees. This is something you simply cannot get with a nationally based card program. We can handle merchants of any size; from home based businesses to those running several terminals in their business.
Your transactions will be managed locally for fast, efficient service. We know your community, and that's a definite advantage. By working locally, we will be able to meet in person to discuss your program as it develops. We're here to answer questions, create solutions and give you the additional services you don't find with a nationally based card program.
For more information, contact Merchant Services Support at (815) 857-3625 ext. 5312.
---
Merchant Support Hours:
24 hour toll-free live customer assistance available at (800) 327-0053.
Bank Support Hours:
Monday, Tuesday, Wednesday, Friday 9:00a.m. – 4:30 p.m.
Thursday & Saturday 9:00 a.m. – 12:00 p.m.